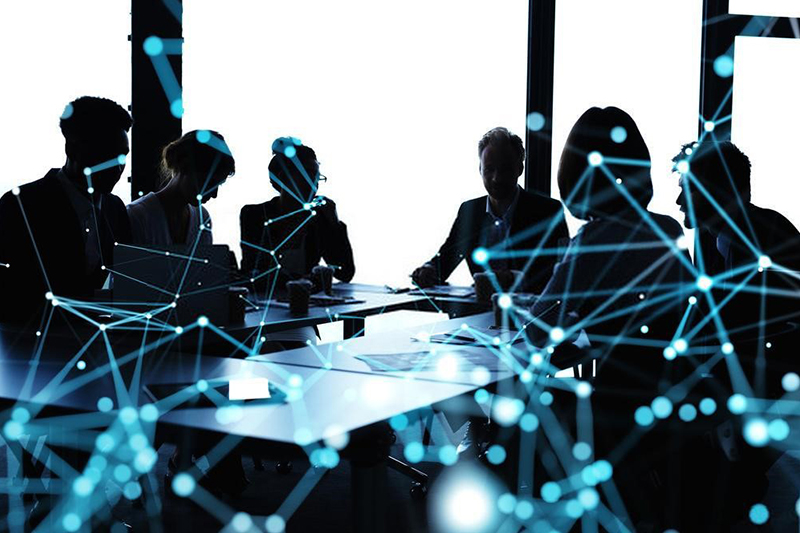 30 Nov

Customer Collaboration: Empathy in Requirements Gathering Process

Posted at 21:54h

in

Blogs

Reading Time:

7

minutes
Customer Collaboration: Empathy in Requirements Gathering Process
Prologue
Martin – Key Account Manager                                                                        Derek – Project Manager
Martin was back in his cabin after finishing a lengthy meeting with his project team. He was preparing for a discussion that was scheduled to take place with one of the organization's prestigious clients. The client was reportedly unhappy with the developed product not meeting their expectations.
Martin, along with Derek, had a detailed discussion on the subject at hand after carefully reviewing various project documents including but not limited to SOW, Requirements Gathering, To-Be Process, and Change Request. The project documents were in place and were duly signed off at every stage. There was ample evidence available to believe that the product was indeed designed based on the inputs provided by users.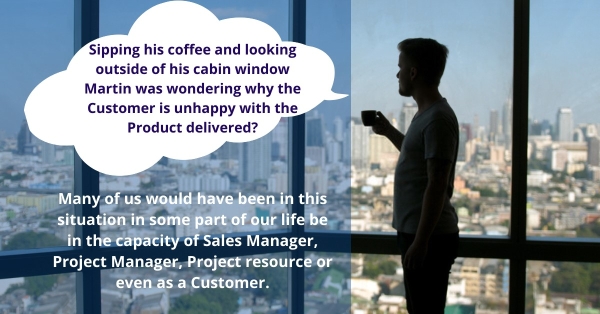 What do you think was the root cause of the issue that Martin and his team were facing? Why was the customer unhappy with the delivered product? In what ways did Derek and his team ensure that they improve in their subsequent projects?
Reasons for Project Failure:
Relationship of Requirement Gathering Process to Project Success
Recent research shows that over 70 percent of projects fail due to a lack of properly gathering requirements and understanding Customer expectations. The importance of gathering requirements to the success of a Project is often underestimated and neglected. However, it is an essential part of any project's success.
In today's world, where a Customer has plenty of choices available, you can't sell a product without understanding the real need of the customer. This is true of development inputs for as small a product as a pin to large aircraft.
Requirements Gathering Process: The Traditional Way
The traditional way of conducting the requirement-gathering process is commonly done in a closed environment and mostly at the client's location. It is usually a formal setup and the participants are Engineers, Architects, or Designers for Core industry and Business Analysts, SME or Functional Consultants for Software/ IT industry. The Customer's – or Client's- side is represented by Managers, SMEs, and Core Users representing their functional departments.
While the Vendor team is ready with their questionnaires, templates and is looking for architectural designs, etc. from the Clients, on the other hand, were ready with their AS-IS documentations and WISH LIST. The agenda for the teams was to create a win-win situation and deliver a product that will have sustainable business value.
The priority for both the teams was to complete this activity by way of formal sign off etc. and move on to the next phase of the Project.
What Was Missing in Traditional Way?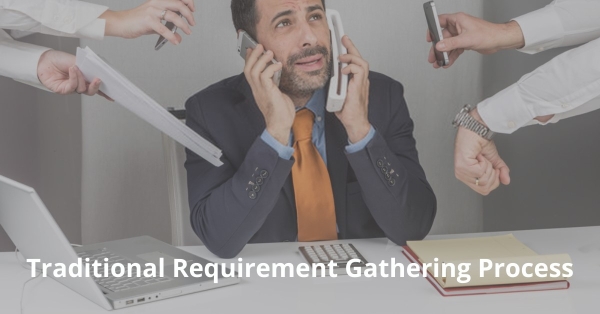 The Customer connect in the traditional way of requirement gathering was missing. In most of the cases, the resources or team from the Vendor side were in a hurry to make the Client accept the proposed solution, without really understanding their pain points, expectations, or perspective. The whole exercise was revolving around meeting the customer than truly connecting with the Customer.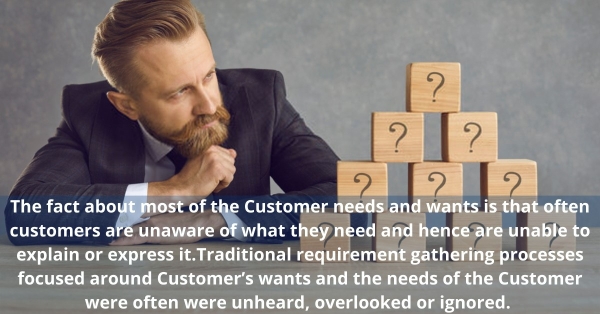 What is Empathy?
The term 'empathy' is used to describe a wide range of experiences. Emotion researchers generally define empathy as the ability to sense other people's emotions, coupled with the ability to imagine what someone else might be thinking or feeling.
Customer Collaboration is the Key to Success
Today, customers control businesses. This era is known as the age of the customer because the customer has many options to choose from. Businesses need to work hard to keep the customers they have. Customer collaboration is one way of ensuring that clients stay happy and don't seek out a new service or product that fills their needs. Organizations that have engaged themselves in active customer collaboration solutions are already leaving behind their competitors and have now an advantage of the increased engagement and efficiency that customer collaboration provides.
Some of the benefits of Customer Collaboration are increased efficiency, cost reduction, avoiding reworks and change requests, timely completion of Product or Project, better customer experience, and increased sales.
Customer Collaboration post-pandemic and in the remote working era
We believe that the nightmare of the pandemic is behind us as many Countries gradually started to lift the restrictions in a phased manner. The businesses have begun to reopen with a cautious approach. What many may prefer to call a return of "normalcy". However, that may not be the case for many industries and companies. During the months of lockdown and remote working, we have created a new work culture. Many organizations have decided to allow remote working for employees or adopting to a hybrid model of working. To sum up the new normal will look very different than the earlier.
Effective customer connects pose a new challenge post-pandemic as many organizations start their projects or key business initiatives with a conservative approach. There could be budget cuts and the business-related travels also are expected to witness a sharp reduction forcing many organizations to conduct business remotely.
Below are a few things that organizations need to follow while communicating with their Customers in the post-pandemic era: –
Employees first: take care of your team: – the first step towards Customer collaboration starts with taking care of your team. If your team is safe and emotionally stable then only it will be in a position to serve your Customer better.

Create seamless and multiple communication channels: – Communicate via multiple mediums like chats, phone calls, WebEx meetings, and E-mails.

Upgrade digital platforms: – Upgrade digital platforms like self-service options or online videos etc.

Focus on customer priorities and concerns: – by proactively engaging with Customers and

Understand their budgetary limitations: – needs to be understood and accommodated as many Organizations were unable to meet their Revenue and Profit targets.

Understand personal limitations or challenges of individuals while connecting: – While interacting at an individual level do ensure that any personal challenges are faced by the person like the presence of children or medical attention for a family member etc.

Maintain delivery quality standards: – Last but not least, maintain and improve the quality to standards overcoming the challenges faced.
Importance of Empathy and UX in Requirement Gathering Process
A few decades ago, 'empathy' was a word used by Human Resources professionals and Top Managers in the Organization. Most of us believed that it was a skill limited to the Manager to connect with his/her report to get the best out of them.
Today, 'empathy' has travelled beyond and is seen as a key soft skill where human interaction is involved irrespective of the role and domain. If I say 'Architects, Designers, Planners, Software developers, Solution architects who are front-ending with Customers need to learn 'Empathy',' would you be awestruck? Will you be surprised to know that empathy can be the secret ingredient to make your Product or Project a thumping success?
User Experience (UX) focuses on having a deep understanding of users, what they need, what they value, their abilities, and also their limitations.  It also takes into account the business goals and objectives of the group managing the project. UX's best practices promote improving the quality of the user's interaction with and perceptions of your product and any related services.
Many Organizations today are encouraging their employees to undergo training and certifications on Emotional Intelligence (EQ) and User Experience (UX).
Success Story
Martin, Derek, and the entire team were at their Client's place to celebrate the success of the recently delivered Project.  The Client was all praise for the Project's value addition to its business but equally overwhelmed by Martin, Derek, and the Project team.
What was the game-changer? While the Project team got trained and followed the latest technology, tools, processes, and methodologies, they also got themselves better connected with their Customers. This was possible because the team that was interacting with the Customer was trained on Emotional Intelligence (EQ) and User Experience (UX). The results were obvious, the team was able to capture the requirements and needs of the Customers better and were able to develop a Product meeting their expectations.
Conclusion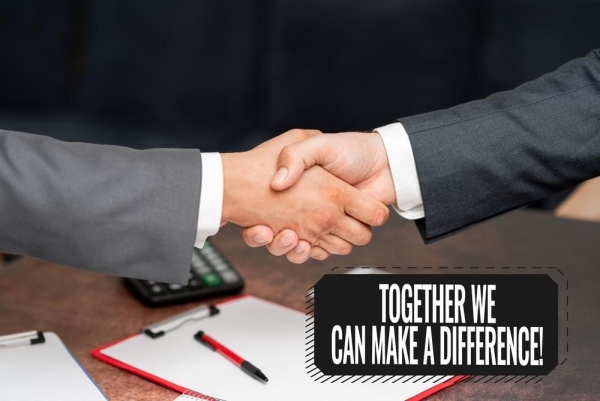 Empathy helps you understand the requirements precisely. Engineers, Architects, Designers, Software developers, Functional consultants, Solution architects, whatever is your title, can fully understand the importance of the requirement gathering process to the success of a Project only if they are able to understand the mind, feelings, and expectations of the Customer. This comes from effectively communicating and collaborating with them. You need to have empathy if you want to establish an emotional connection with the needs of the Customers.
Empathetically understanding the expectations of the project supports you to build a product that precisely matches the expectations of the customer irrespective of the process, framework, or methodologies, Waterfall or Agile, you follow for development.
Annexure
How to Connect with Customers? Few Examples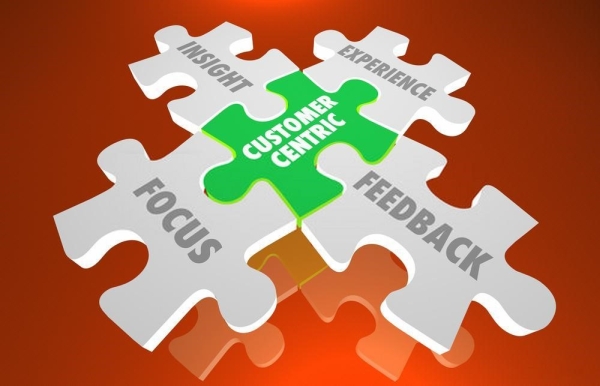 Listen to views and thoughts of Customers

Understand things from Customer's perspective

Prefer Face-to-face interaction, wherever possible

Do not force thoughts and ideas

Allow him/her to express their thoughts through multiple mediums if required.

Observe behaviors and patterns of Customers

Diagnose and resolve issues faced by him

Show him the demo of the Product if you already have it.

Be open to suggestions and ideas

Create a trust-based relationship and environment

Add more time for Complex things

Take a tour of Customer's place: See and feel the Business, Systems, and Culture

Update the Customers on a real-time basis.

Share and explain your constraints and challenges

Keep buffer for some omissions at an early stage

Focus on creating a long-term relationship