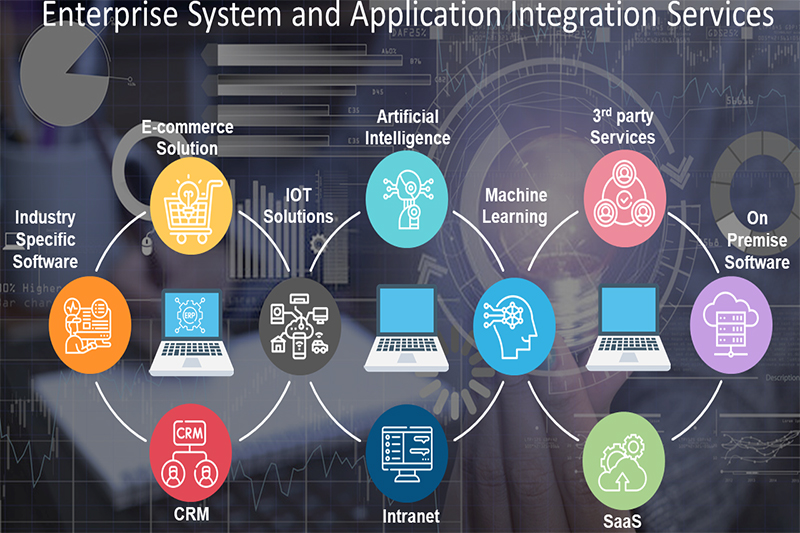 02 Jan

Delivering Business Value Through Leveraging Technologies and Systems's Optimization – The Role of New Age CIO

Posted at 16:51h

in

Blogs

Reading Time:

6

minutes
Delivering Business Value Through Leveraging Technologies and Systems's Optimization – The Role of New Age CIO
CHANGING NATURE OF BUSINESS
The business has become dynamic these days and the customer expectations are soaring every day. The Organizations that want to stay relevant in the business has to be nimble and agile than before. This is true not only for technologically intensive companies but is even applicable for brick and mortar businesses.
From cloud environment, SaaS to XaaS and usage of Smartphones, consumer likings and preferences have reshaped the competitive landscape. The inclusion of data science disciplines like Artificial Intelligence (AI), Machine Learning (ML) and Automation are at the center stage of many organizations. Even the core sector companies want to identify themselves as technology companies.
Companies, today, need to be tech-forward: technology needs to drive the business.
ORGANISATIONAL EFFICIENCIES: IMPORTANCE OF POLICIES, PROCESSES AND SYSTEMS
Every organization wants the best for its customers and are continuously looking at ways to improve productivity. Working processes are to be reviewed and redefined at intervals to increase efficiencies. Organizational policies and procedures maturity play a vital role in ongoing operations and new projects. One of the major reasons for business success is how sustained processes are incorporated through software's and systems.
A standardized management system enables the above to be achieved, allowing businesses to be proactive resulting in multiple benefits to the staff, customers, management and stakeholders alike.
SYSTEMS IMPLEMENTATION: TRADITIONAL ROLE AND CHALLENGES OF IT DEPARTMENT AND CIO
Prior to the year 1990, for most of the organizations, only one system was implemented as there were several challenges associated with it like: high cost of implementation, lack of standardization of policies and procedures across the organization, lack of consensus of stakeholders, project delays, change management (technical and cultural), system stabilization and benefits realization, payback period, Operational costs: licensing fees, supporting costs, infrastructure, upgrades etc.
The IT department and CIO were largely responsible to keep systems up and running, managing new implementations projects. IT department was a cost center and was seen as a support function in many organizations and was not part of the core business process. In many cases, they have no or limited say in many business initiatives and systems implementations.
SYSTEM's MAINTENANCE AND NEW TECHNOLOGY INITIATIVES: CHALLENGES FOR TRADITIONAL CIO's
Traditional CIO's were not having any authority to influence business-related decisions of the organization. The CIO's were seen often succumbing to the power dynamics of the organization and have many masters to serve. Additionally, CIO's were seen juggling with addressing multiple priorities like audit and compliance, reporting and the regular upkeep of systems.
In many organizations, functional departments were calling the shots and adding software systems as they please bypassing the IT and CIO. Hence the system landscape started becoming more complex and, in many cases, unmanageable.
MULTIPLE SYSTEMS: HOW YOU GOT THERE?
Few reasons for large and complex software system as part of their ecosystem as listed below:-
Multiple systems were added over a span of several years without much vision

Systems that were phased out but were retained from a statutory perspective

Functional departments implementing systems from their own budget

Systems which got added as a result of Mergers & Acquisitions

Systems that were implemented as part to meet statutory compliance
Most of the CIO's who inherited this as a part of legacy have found it difficult to manage this structure at some point in time.
MULTIPLE SYSTEMS: ADVANTAGES, DISADVANTAGES, AFFECTED PARTIES & AREAS AFFECTED
ADVANTAGES are mostly for the specific functional department: –
System of their choice and convenience

Ease of use for staff

Managers and Leaders can have data and report in their expected formats
DISADVANTAGES
Cross-functional department users find difficulty in learning and operating multiple systems

Login to multiple systems

Nonstandard structures (Masters) and data/reports
AFFECTED PARTIES: MANAGERS
Bulk of time goes into the reconciliation of data from two or more systems

Delay in finalizing accounts and reporting

Inaccurate reporting

Audit and compliance issues
AFFECTED PARTIES: MANAGEMENT
Multiple sources of truth – which to believe?

Delay in receiving of data and reports
AREAS AFFECTED
Internal and External reporting – Audit and Compliance – Systems and User support costs
IT infrastructure maintenance – System upgrades – IT licensing and operational costs
SYSTEM LANDSCAPE REVIEW AND OPTIMISATION: WHY IS IT NEEDED?
A growing organization requires the support of tools and software's to remain efficient and to serve its customers, internal or external.
With the advent of cloud and new technologies like SaaS, it is very tempting to add to your portfolio but it becomes difficult to fit them into your systems management practice. The rapid evolution and acceptance of free and open-source tools provide a growing organization immediate benefits however they are unable to handle increased volume and integrate with complex environments.
In order to achieve the above, it is important to ensure you are getting the most from your IT systems. Therefore, it is a wise decision to regularly review your IT infrastructure and to ensure that you have the best possible systems and processes in place to keep your business running smoothly.
SYSTEM LANDSCAPE REVIEW AND OPTIMISATION: A CONTINUOUS JOURNEY
Systems landscape review and optimization can be considered as a project in itself as it has some tangible and measurable benefits as success criteria. However, the process could be a complex one and may require a larger representation from various business functions. It is important to understand that how the systems interact with each other as a part of a bigger ecosystem and what are the areas where there are bottlenecks and disconnects. The larger objective is to plug the loopholes, integrate systems and encourage automation to bring efficiencies and the desired business benefits.
While the system's optimization may look mostly a technology-driven initiative but it cannot be done in isolation. The human element is a major component in any system as ultimately all the software's and systems are going to be used by human beings. Hence, change management plays an important and integral role in this project. It is prudent to have your organizational policies and processes in place as a starting point. Standardization of policies and processes holds the key to success for this activity.
SYSTEM OPTIMISATION: CHALLENGES ENCOUNTERED BY CIO
At the surface of it looks like a very reasonable expectation from the business and user's perspective to have the best of the software and systems available to them to serve their customers. However, the CIO on the other hand, most of the time, often seems to be struggling with his own set of challenges.
For most of the CIO's, their time, energy and focus are spent on adding new systems. The IT resources are often found jumping from one project to another leaving them no time to reflect and evaluate the intended benefits realization from the systems that are already in place.
The regret of many CIO's was that they do not have time to measure the business value of the existing infrastructure. The CIO's were also of the view that many actions of theirs lack strategic direction.
SYSTEM OPTIMISATION: CONSIDERATIONS
An IT review provides you with an understanding of the health of your business IT systems. Also, it identifies any areas of your IT that require improvements that should be undertaken as a priority to capture cost savings quickly or to improve service levels in the business.
Listed below are few points that the organization, CIO and Leadership in particular should note of: –
Let the Systems be under the control of IT: they have to approve any additions

Leadership has to play a crucial role: – Learn to say NO

Set clear and realistic expectations with stakeholders

Accept the fact that not all is going to come from one system.

There would be some limitations and workarounds that you have to live with.

The spreadsheets are going to stay

Think beyond……………. technology, compliance etc.…

Reduce manual intervention and focus on automation

Continuous communication with customers is a must
ROLE OF IT IN TODAY's ERA
IT is no longer an outer ring and has become an integral part of the core business process for any organization. The expectation from IT has changed beyond Business Continuity, IT Infrastructure management and Disaster Recovery to maximizing productivity and efficiency.
A recent survey based on research and interaction with several CEOs and CIOs of large organizations suggest that the IT mission has changed a lot and will continue to do so in near future. Organizations that want to make themselves counted are looking to technology as a catalyst for growth.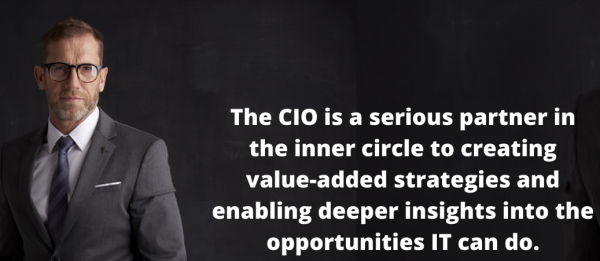 LEVERAGING TECHNOLOGIES AND CLOUD WORLD: CIO's ARE IN THE SPOTLIGHT
The role of the CIO today has expanded beyond projects, compliance, cost, infrastructure management and performance responsibilities to the transformation of IT into a core driver of business value. Hence it is important for the new age CIO's to understand the capabilities of tech transformations themselves. The CIO's of today, irrespective of industry, has to spearhead a comprehensive tech transformation to deliver optimum business value.
In the recent past, even the Leadership has stressed the need for CIOs to look beyond managing IT to leveraging technology to create sustainable value for the business. The advent of technologies like machine learning, artificial intelligence and cloud environment has led to reshaping the competitive landscape and business models. This priority is now the new performance measure of a CIO.
For CIOs, the roadmap is set and they need to show the much-required boldness that they were lacking so far. They can only enable the business's aspirations for growth and also shape them. The new age
CIO's will get their much-deserved share of the limelight if they act well. The CIOs are in the spotlight.
POINTS TO PONDER
How many systems do you have?
Are your systems manageable?
Are you exploring the existing systems to their potential?
Is the IT system scalable?
Are you able to get maximum benefits out of them without having cost and compliance issues?
Are your end-users and management happy with your systems?
Most importantly are your systems able to get you the business benefit that you were looking for?