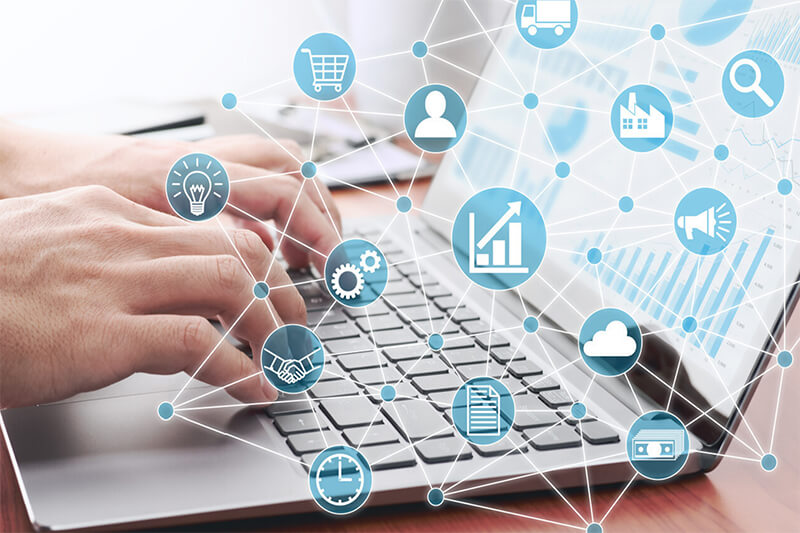 29 Oct

ERP Implementation – Improving Business Performance

Posted at 16:02h

in

Blogs

Reading Time:

3

minutes
ERP Implementation – Improving Business Performance
It is challenging to keep track of every resource and manage to use it in today's fast-moving era. Most small and medium-sized businesses face challenges in different business areas, whether it's accounting, operations, inventory management, or strategic planning. We need a solution to tackle these challenges and to improve business performance. ERP will not only manage your business, but it will also improve your business performance in several aspects.
ERP is a unified platform that brings people, systems, and data of business processes together to form a collaborative, efficient, and effective ecosystem, which will help to eliminate data duplication and provide data integrity with a single source of truth.
ERP solutions are mainly designed to simplify your business processes, manage tasks, and increase productivity. It will help you to efficiently deal with modern strategies that are extremely beneficial for the business's real growth. It is a solution that manages all departments in your business to achieve a common goal, i.e. improve business performance
ERP is fast becoming the backbone for every successful business. It has revolutionized how businesses operate in today's world. This is specifically true for companies with various processes and a massive team of employees.
ERP implementation can significantly improve a company's performance by developing efficient means to plan the resources and optimize productivity. Let's take a look at how ERP implementation improves business performance.
● Automation of Business Tasks
ERP helps to automate various business tasks and processes while increasing efficiency in numerous departments. It also helps to reduce repetitive tasks, allowing more time for other operations.
● Streamline Business Processes
An ERP system helps to streamline business processes by automating manual tasks and improving inventory management. With an effective ERP in place, communication across departments becomes easy and seamless.
● Compliance and Finance Management
Each country has specific rules and regulations when it comes to business operations, including financial management. ERP software helps to maintain compliance with such regulations.
● Transparency and Real-time Analysis
Transparency and access restrictions are the major USP of ERP software. It allows clear visibility of every aspect of your business and allowing access to every department. All departments of an organization can get access to real-time data and plan the work accordingly. This ensures that you can have a look at everything as they happen.
● Improved Customer Service
Not only a company, but the company's clients also reap the benefits of ERP software. Since client data is streamlined and centralized, the sales team can focus on building customer relationships. With the end to end tracking, companies can provide better customer service.
● Better Planning
One of the key benefits of ERP is better planning. Companies get access to a wide range of tools for analyzing every aspect of the organization. This allows supervisors to do better planning and make smart decisions.
● Streamlines Customer Relation Management
Most of the ERP software today includes CRM features. This assists in the automation of customer service tasks. The software can track transactions, orders, service requests, complaints, and much more. Although these features boost customer service, the real advantage lies in the detailed customer analytics. It helps with targeted marketing, thereby increasing customer retention and acquisition.
● Data Security
Data security is a concern for every organization. When you share data across multiple systems, there is an increased risk of data security. With ERP software, data gets secured in a central database. This increases safety while reducing the risk of failure.
NetSuite ERP
Around 40,000 people worldwide from diverse industries use NetSuite – a SaaS business management suite. It provides you with a fully integrated CRM, ERP, global business management as well as real-time business intelligence. NetSuite can help improve your business performance too, just as it does for its existing users.
NetSuite will handle all the critical aspects of the routine operations such as financial management, production management, order management, and supply chain. NetSuite CRM allows you to track interactions with customers. Additionally, with NetSuite Business Intelligence, a company can generate real-time data. Ultimately, the software is highly customizable and can adapt to most of the business needs.
Many businesses rely on separate systems to accomplish core tasks but you can simplify the process by choosing a centralized ERP system. While streamlining business processes, it also empowers the employees to give their best and takes the organization to a high level.
While there might be certain disadvantages of some businesses' ERP systems, the pros always outweigh the cons. In the long term, the benefits of ERP implementation will make the investment and resources worthwhile.
At RevGurus, we help you to implement NetSuite ERP to meet the evolving business requirements of companies of all sizes, at every stage of growth. If you're looking for a NetSuite ERP solution to improve your business performance, connect with our NetSuite Experts.