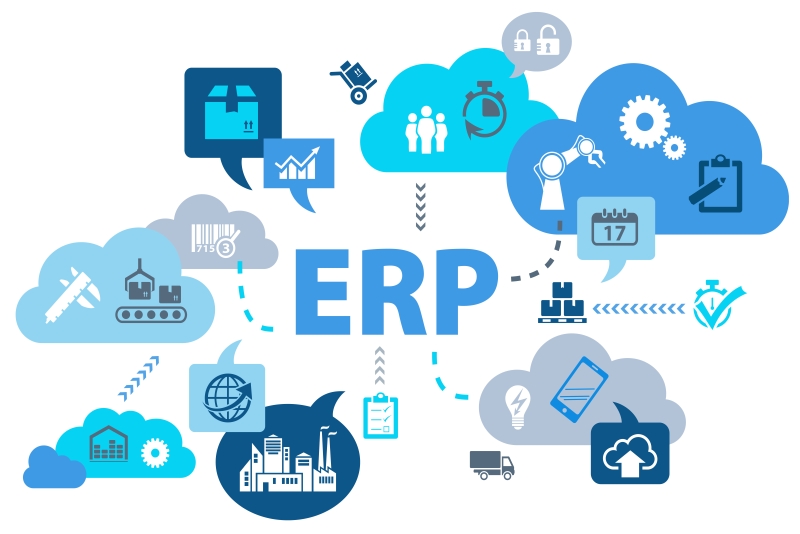 21 Jul

How to make ERP Implementation a Success in Today's World

Posted at 11:46h

in

Blogs

Reading Time:

7

minutes
How to make ERP Implementation a Success in Today's World
Think of a few Organizations that come to your mind who have achieved success in the last few years?
Now think of a few reasons behind their success? There could be one or a combination of many, like the launch of a new product, change in leadership, new strategic initiatives, internal restructuring, etc.
Do you think that a successful 'ERP IMPLEMENTATION' also contributed to their success?
If the answer is 'Yes," then you will find the below text could be of interest to you.
Many of us who are aware of ERP systems or were part of its implementation, in whatever capacity or role, surely know it is the 'GAME CHANGER' for many Organizations. It can make or break as many Organizations rode on the back of successful implementation, achieving business benefits both tangible and non-tangible. On the other hand, many Organizations sank as they could not achieve the desired results even after spending substantial effort.
ERP implementation is like peeling off layers of Onion. You have to peel it off until you get it to its core, and you may get surprises anytime in the process. The same is expected with ERP implementation. While the absolute success is at its end, you have to take it session by session to achieve your ultimate objective. ERP implementation, in short, is a roller-coaster journey where you will have your highs and lows. It is also similar to Sports; an unfavorable session or a few bad minutes can distract you from the game.
A recent survey shows that only 20% of ERP implementations projects can achieve desired project benefits. Why are the statistics so unfavorable? What needs to be done to improve these figures? 
What is the definition of successful ERP implementation in your view?
Completion of Project in Cost, Scope, and time?
Has it increased operational efficiencies?
Is it standardizing and integrating policies and processes across the Organization?
Stability of Operations?
Smooth month close processing and accurate reporting?
Are they adhering to Internal and External compliances?
Achieving the Business Value?
Is the System flexible and scalable?
Perhaps you will say all of the above and a few that are not explicitly listed. You will also agree that there is no perfect answer to what can be called 'SUCCESS' regarding ERP implementation.
ERP implementation is a mixed-motive game, as we understand from the above, and therefore, Organization Leadership has a crucial role to play. While the Senior Management is excited to have an efficient ERP system in their organization, it is not without anxieties or concerns as it has risks and uncertainties. One crucial factor specific to ERP implementation is that it encompasses several functional, cultural, and technical domains that have interrelationships.
However, meticulous planning and disciplined execution can increase the probability of success.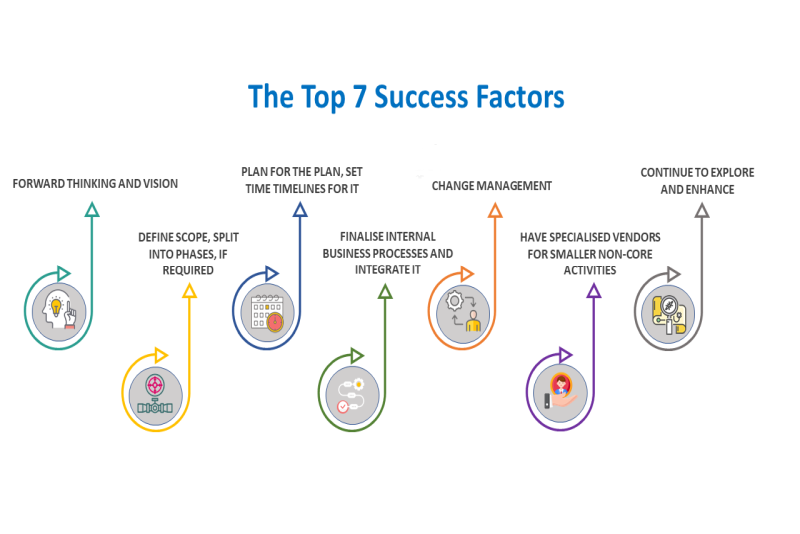 Below are a few things that need to be considered to make ERP implementation success: –
1) The objective of the implementation for the organization
Start with 'WHY'? The first step that Organization should take is to understand the objective of this implementation. The reasons for engaging in this initiative could differ from Organization to Organization, like increased market share, focus on automation and reduced manual intervention, and exploring the benefits of Cloud, to name a few.
2) Forward-thinking and vision
The Organization needs to think beyond, and its Leaders need to see the landscape before others. Like there could be a merger or acquisition company is looking for, you may think spinning division or business unit, there could be changes to your Business model and Reach to Market Model (RTM). A Manufacturing company can consider foraying into a service or solution and vice versa.
3) Make it an enterprise initiative
ERP implementation is an Organizational initiative and not limited to a few departments. The responsibility and the communication should be spared across the Organization.
4) Onboard all stakeholders
Onboard all the Stakeholders and update them about the project's progress.  Please beware of the Stakeholders who may play a role at the end of the project but can adversely impact its outcome.
5) Define scope, split into phases, if required
The next step is to define the scope of the Project based on the expectations. This can be achieved by collecting the respective functional department's requirements, evaluating them & setting realistic expectations as part of the project scope. Split the project into phases if you have overwhelming needs.
6) Plan for the plan, set time timelines for it
Usually, many Organizations are always in a rush to start the project and complete it as soon as possible. Yes, the pressure to implement will always be there, but the project may become a challenge to control without proper planning. A hasty implementation is always a risky thing. Avoid it.
7) Finalize internal business processes and integrate it across
This is one activity that many organizations underestimate. They often wait till fag end or depend on the ERP Vendor to suggest standard business processes or best practices. It is the responsibility of the Organization to ensure that they have formal business processes in place and are integrated and followed.
8) Set your house in order before you invite vendors
Organizations have to coordinate and resolve their internal conflicts and concerns before inviting Implementation partners. Often, all their internal challenges that may indeed have a bearing on the outcome of the Project are presented before the Vendor, and it's expected that a solution needs to be provided for it. Yes, a Vendor may help you with the challenges you are experiencing, but it is always better if he is focused on the implementation than getting involved in some of the non-core project activities.
9) Decide the ERP application that suits your needs
 This is the most critical implementation element. Deciding on a suitable ERP system that meets all your requirements is hard to find. Each Software has its advantages and disadvantages. It is for the Organization to take a call considering their expectations and constraints after careful consideration.
10) Data Cleaning (masters, open transactions, other LOVs, etc.)
Master data, Open Transactions, and other List of Values (LOVs) are seldom visited on intervals unless forced to do so by Audit or as a part of compliance. It can be cited as a disciplinary issue and a significant roadblock during implementation. Most organizations often underestimate the magnitude and complexity of this activity. It requires cross-functional coordination and consensus to get this done.
11) Have a dedicated team that is aware of the capabilities of a couple of known systems
Once the ERP System to be implemented is decided, it is better to have a few Subject Matter Experts (SMEs) from the Organization representing their respective departments who are aware of the capabilities and features of the software. The Organization can get these resources trained or could hire expertise through a Third-party vendor. This ensures that you know the system's capabilities and can derive maximum benefit from the implementation.
12) Change Management
Any ERP implementation cannot be completed without successful Change Management. There is Process, Cultural and Technological change involved in ERP implementation, and each one has a bearing on another.
13) Communication on changes due to compliances
With the New System implemented, control and compliances would be introduced that did not exist earlier. Many users may get affected due to this, and the privileges they used to enjoy earlier may get reduced or stripped off entirely for many. This could result in the affected users becoming negative Stakeholders of the projects. It is better to communicate the changes in advance to avoid such a situation. If this change is coordinated through the Audit or Compliance department, it is advisable.
14) Integration – it's a complex world and will get even further
While ideally, one may like to have only one system or, for that matter, limited plans, it isn't the case in today's world, where new products and software are released daily for your specific needs. It would help if you had interfaces built for your Bolton's around the ERP system.
15) Project and configuration documents should be lean
ERP implementation is complex and has multiple phases. It is no surprise that you have tons of documents by the end of the projects, most of which may not be required after some point in time. Few of them are to be retained from a future reference and compliance perspective but are often difficult to trace. To avoid this after the end of the project, the implementation documents are to be reviewed only relevant, and required documents are to be retained.
16) Retain knowledge before the team disembarks
The teams involved in the Project return to their respective functional department, and the Vendor's resources will move on to a different project. Over time, you will find employees moving to new departments, geographies, or even leaving your Organization. They take that knowledge along with them in most cases. So, it is better to get their knowledge shared with other team members. Here we are not referring to the Project Learning document.
17) Post-production support
Once the Implementation is over and the software is in place, the Project team handovers support required to the Operations team to address day-to-day issues faced by Users. Ensure that the support team has all the training and confidence to take over once the Project team leaves. You can decide your support model's structure (level) based on your requirements and your in-house capabilities.
18) Have specialized vendors for smaller non-core activities
A large ERP Implementation has many activities. Some of them could be small. An organization may sometimes have some expertise to perform those activities, but they are not its core competency. It is tempting to complete these activities with your in-house resources. This argument holds good as you mitigate the risk of coordinating and integrating with additional Vendors. However, sometimes it may not be the best thing to do as the expertise, efficiencies, and output quality may not match what a professional service provider can offer.
19) A fresh approach to master records and LOVs (hire professional expertise)
Do not succumb to the trap that ours is a unique organization. Our People are known the best.
20) Implementation methodologies that suit you the best
One of the most challenging choices an Organization or Project Manager has to face is which implementation methodology he must follow. There is no straightforward answer for it, and the Organization can decide which suits them best based on the Project, the team's experience, and most importantly, its culture.
21) Continue to explore and enhance
An ERP system has a lot of capabilities and features that one can think of. It requires several years to understand its full capabilities and reap its benefits to the optimum. Post successful implementation and stabilization, the team can start exploring additional features.
Conclusion
Just went LIVE with your ERP Implementation? Hurray! Many Congratulations!
However, the real benefits of ERP systems have just started. It's not about cutting the Satin Ribbon or going live; It's not about flipping the switch; it's not about generating the first Sales Order (SO), Purchase Order (PO), Sales Invoice, or developing the first report or Trial Balance (TB) from the system. That is undoubtedly a win, but ERP implementation benefits are spread years after implementation.