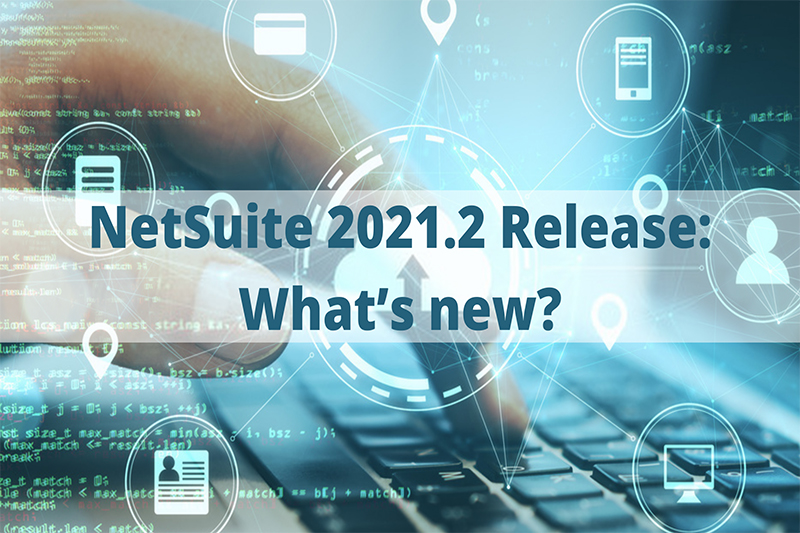 15 Oct

NetSuite 2021.2 Release: What's new?

Posted at 00:06h

in

Blogs

Reading Time:

3

minutes
NetSuite 2021.2 Release: What's new?
NetSuite has released the Second upgrade out of two of the year 2021. With the wealth of latest features for consumers to take advantage of, NetSuite has come up with improvements in sectors like Manufacturing, Software, Professional services, and so on.
Accurate data and better insights, improved supply planning capabilities, easy payments, NetSuite 2021.2 have it all.
Businesses need solutions that help them to function at full efficiency. The growing organizations need improvements in these solutions to adapt to changing needs of customers, their always fluctuating trends, and ever-changing demand-supply equations. To improve productivity and customer satisfaction along with enhanced functioning within organizations, NetSuite has introduced new features according to the needs of each business sector.
Key new Features of NetSuite 2021.2 Release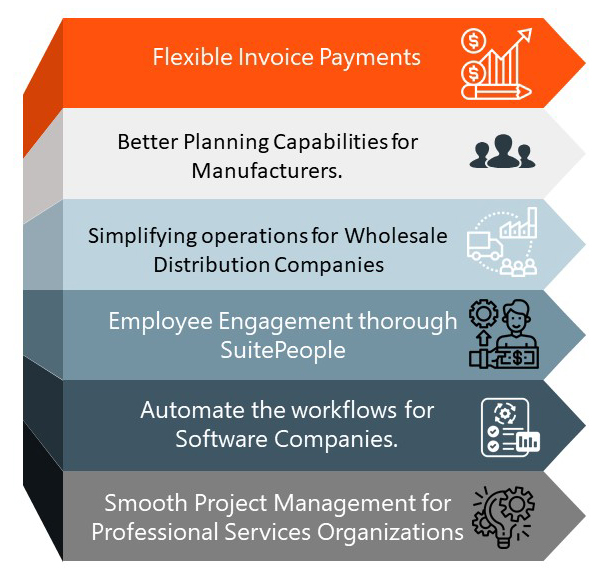 Below are some of the key new updates of NetSuite 2021.2 Release:
Flexible Invoice Payments to Reduce Manual Work
Get paid Faster: With the new feature Payment Link, your customers now can pay invoices online. Simpler electronic payments through emailed invoices that include a link to a secure payment portal. Customers can get notified of outstanding bills, click the embedded link and do payments, and can pay through debit/credit cards, PayPal, or other online payment methods. Customers have the flexibility to do partial or full payments. This feature will definitely curtail the struggle of companies that need to match the customer's payments to specific invoices.
HSBC is now an exchange rate provider, to automate exchange rates.
Better Planning Capabilities, flexible Supply Chains for Manufacturers.
Optimize inventory allocation.
With the new feature in Supply Chain, planners now can prioritize inventory allocation to sales orders according to its revenue or profit margins. New NetSuite comes up with an information viewing facility in the Planning Workbench. With this, users can accurately forecast demand and plan supplies. The updated supply allocation feature reduces the chances of canceling orders that have higher profits due to stock-outs. Planners can also exclude previously rejected recommendations. Planners will have better insight into the reallocation of orders.
With the ability to auto-generate certificates of analysis of any items, companies can meet customers' quality and compliances.
Simplifying operations for Wholesale Distribution Companies with Intelligent Inventory Management
Lot Number Allotment: No need to rely on users to create naming and lot numbers. Enhanced features facilitate workers to automate the creation of lot numbers and codes to products, increasing efficiency and reducing errors. They can also add custom fields like shipment date, manufacturing dates to make orders organized. Workers having the capability to ship pallets from mobile devices can hold pallet shipment until full, to make shipping more cost-effective.
Steady Employee Engagement thorough SuitePeople
No more Manual Calculations for calculating 401 plans
NetSuite now has an automated performance review feature. Accolades given during the review period will be added to the employee's performance review. With Performance Management UI enhancement, it is simpler to compare goals against progress, and easy to achieve goals faster. A new feature in SuitePeople also automates calculations for 401(K) plans and includes rules-based formulas that calculate employer match amounts. When an employee changes the contribution amount, the match will be updated automatically. The new feature also facilitates flexibility in retirement plan contributions.
Automate and unify the workflows to run Software Company's businesses more efficiently.
Bulk Activation Feature:
Automate Subscriptions: Software Companies can now benefit from additional features in SuiteBilling that improve flexibility in terms of subscription models. Now activate, suspend, or reactivate simultaneous multiple subscriptions automatically in one go. Now handle a large number of accounts increasing your productivity.
With the Requisition and Procurement Feature, users now can consolidate purchase requisitions across subsidiaries. Purchases can be collected at a respective subsidiary, and payment will be charged subsequently.
Smoother Project Management for Professional Services Organizations.
Superior visibility into projects throughout the Project Lifecycle
Managers can review, approve and reject transactions. Managers have control over project budgets. Users can also assign project managers to take project-based decisions. Managers have control over budgets, expenses allow more flexibility.
Along with these new features, NetSuite has released updates for retailers, non-profits organizations as well as developers and administrators. NetSuite upgrade is on roll from August to October 2021. You can know about your upgrade date and more about the latest NetSuite release by logging in to your dashboard. You can always test new capabilities in preview before upgrade to get hands-on insights.
RevGurus specializes in the implementation of NetSuite ERP. Our experts are Chartered Accountants with ERP experience. A NetSuite Alliance Partner, we at RevGurus adopt best Practices for NetSuite Implementations.
If you have any queries with respect to NetSuite Upgrades, you can get in touch with us. Email us at info@revgurus.com