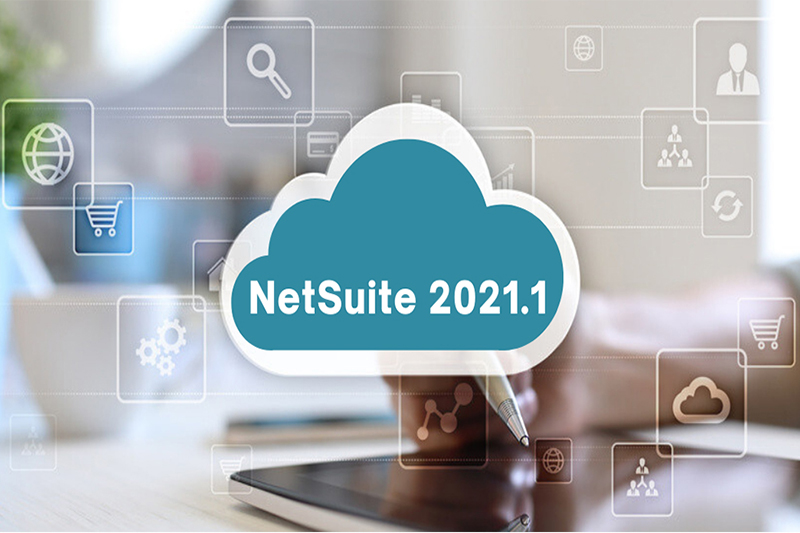 28 May

Sneak peek into NetSuite 2021.1

Posted at 06:26h

in

Blogs

Reading Time:

3

minutes
Sneak peek into NetSuite 2021.1 – Key New Features to Streamline your Business
NetSuite – A cloud platform releases its new versions with enhancements twice every year. These changes are additional functionalities to the existing features.
You would receive the preview of the NetSuite release for your domain, and a timetable to keep users informed. The resources are also available to educate users.  You can check and test the workflow and customizations in preview, to prevent future issues and delays.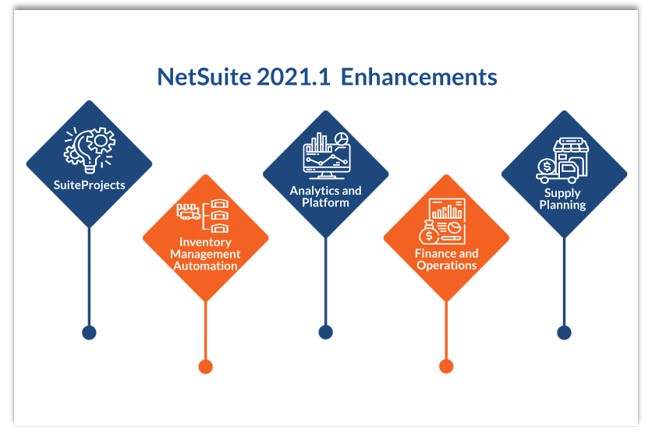 What is new in NetSuite 2021.1?
1. INTRODUCTION OF SUITEPROJECTS
The new entrant is SuiteProjects – a Professional Service Automation solution that has capabilities into
Project Management

Project Accounting

Time and Expense Management

Billing

Resource Management

Analytics

Project Revenues – for companies that have subscribed to NetSuite ARM
SuiteProjects is a blend of CRM, HR, PSA, and ERP, therefore, is a perfect solution for the Services Industries. SuiteProjects provides complete visibility and control over current projects, deliverables, and billings, it enables you to run your business on a single data system.
Project Purchase Automation in NetSuite 2021.1 enables managers to initiate purchases directly from projects to get clear visibility and smooth purchase approvals. Managers can assess the effect of purchases on a project.
2. AUTOMATED INVENTORY MANAGEMENT
The debut of NetSuite Pack Station for increased order fulfillment efficiency. Available as a standalone solution and in NetSuite's WMS, it gives you the visibility of items shipped in the packages. NetSuite Pack Station is a touchscreen mobile app built to achieve accuracy in packaging and shipping. It is useful for packing multiple cartons at the same time, manage multi-level packaging, and capturing the weight on the scales.
Warehouse Management System (WMS) enhancements in NetSuite 2021.1 comprises of features such as wave automation for off-peak processing, bulk picking, automatic label printing, tally scans for quicker bar code scans, cart put-away.
Channel Allocation and Reservation features for improved tracking of sales and operations within the enterprise.
3. ANALYTICS AND PLATFORM
NetSuite 2021.1 has of new Application Performance Management Dashboards that provide the ability to scrutinize and monitor the REST web-based integrations running on NetSuite. These dashboards provide a glimpse of REST-integrations performance to understand issues in data integrations.
To enable users to assess the business data in their local languages, NetSuite introduced native language support for SuiteAnalytics workbooks.
Also, there is good news for Developers! NetSuite 2021.1 also has powerful SuiteScript APIs which are easier to use for better customization and easy application development. It gives developers more control over authentication information.
4. FINANCE AND OPERATIONAL ENHANCEMENTS
Centralized subsidiary purchasing and billing
This feature allows users to receive and consolidate purchase orders across multiple subsidiaries and the payments get generated at a single location. This results in reducing purchase order volume. NetSuite automates the corresponding charges. These purchases are allocated to the particular subsidiary.
New expense commitments and budget validation
With this feature, you can validate the purchase request by comparing it with the company's budget to follow the allocated budget accurately. This prevents overspending.
SuiteApprovals
This feature allows to review, approve or reject transactions within emails. No need to log in to NetSuite increasing automation further.
Automation of importing Financial Data from banks
With the Global Bank Feeds Feature, organizations can auto-import financial data, create and post transactions from several banks across Asia, New Zealand, and Australia. Account reconciliation tasks are simplified to enhance efficiency.
5. SUPPLY PLANNING CAPABILITIES
Enhanced supply chain features provide thorough visibility into allocated demands and inbound shipments. Supply chain allocation against blanket PO in 2021.1 is for better order accuracy.
NetSuite 2021.1 has numerous enhancements, which you can always find here in detail.
To conclude, NetSuite 2021.1 has something to offer for every industry be it Manufacturing, Software, Services, Retail, Wholesale Distribution, or even a Non-Profit Organization. These updates enhance the NetSuite platform and improve your business productivity. You certainly do not want to miss these latest features and highlights of NetSuite 2021.1.
RevGurus a NetSuite Alliance Partner, has a team of certified and experienced ERP consultants and we are always ready to help your organization to make a smooth transition into a new version of NetSuite 2021.1. We ensure to help you to get the best for your enterprise with this latest NetSuite update.
If you want to explore more about any particular feature or any new features of NetSuite 2021.1, you can contact RevGurus. To get in touch with us, email info@revgurus.com