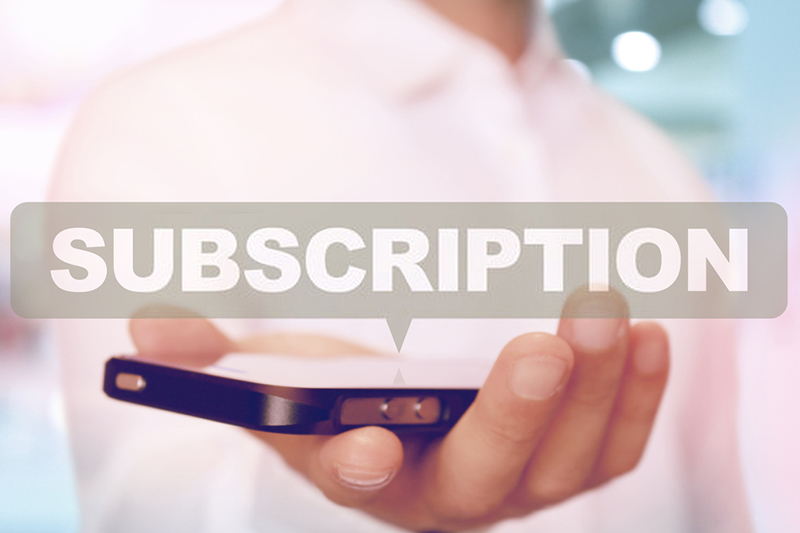 06 Jan

The Thriving Subscription Business

Posted at 16:54h

in

Blogs

Reading Time:

4

minutes
The Thriving Subscription Business
Everyone is a fan of subscription models today. And lockdowns during Pandemic have increased the adoption amongst businesses to opt for a subscription model. Thus, subscription businesses are growing. This trend is not short-term. It is going to continue, and so does the subscription businesses. As a consumer, subscriptions are cost-effective and efficient. You use what you need and when you need it. Similarly, it becomes easier for the service provider, as subscriptions are efficient, predictable, profitable.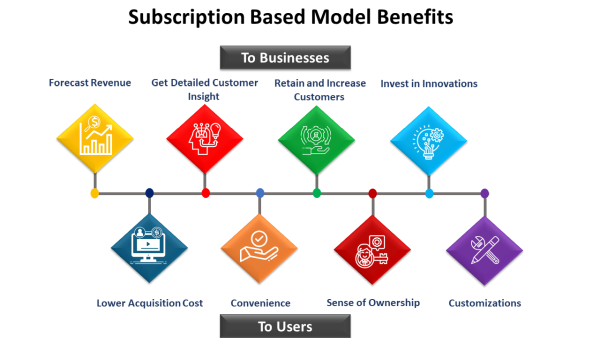 Why Subscriptions?
In a subscription model, instead of purchasing a product or service for one time, a consumer can subscribe to have access to the product for a decided time. This is a potential win-win situation for customers and businesses. Customers have the benefit of convenience, flexibility, customization whereas businesses can better forecast the revenue and understand the customers more. So, organizations should quickly take notice of the same and realize the opportunity of vast advantages of the subscription business model. In short, we can witness the era of ownership is ending; and the era of usership is the future.
A subscriber gives consent to receive a service or product in regular intervals with an agreement to pay in advance or on receipt. Subscription business models have been part of the system for a long. (e.g. Cable TV Services, Newspapers) Technology innovations have made it possible for companies to evolve their product/ services rapidly to meet customers' demands.
This paradigm shift has the potential to yield a fruitful outcome that benefits customers and businesses simultaneously. Through subscriptions, customers, or subscribers, and businesses see growth because customers have the freedom to make changes to their subscriptions. At the same time, companies should invest more in renovation adding new functionalities or features to retain existing customers and find new prospects as well.
Subscription Businesses Thrive because of Lower acquisition cost. A big number of subscribed customers, decreases the total acquisition costs, releasing the capital to invest in innovation. Subscribed customers engage in active feedbacks that help businesses invest more in R&D.
Almost all subscription-based businesses are structured on platforms that can scale up or down with demand. When the subscription is information, data, or media, the sales-to-investment ratio can grow exponentially. If the subscription is a physical good or a human-delivered service e.g., Groceries/Garments one of these models can be easily repeated across customers, based on demand growth.
Having said that, investors also get inclined towards subscription business models because of predictable recurring revenue. As subscription-based companies grow vertically and horizontally, most of the growth engines would shift towards cross and up-sell to the existing customers. And businesses expand from being single-product companies to businesses offering a portfolio of products and services.
What is a requirement for a business to succeed in the subscription economy?
Examine the response of customers towards a subscription model. Once a company gets subscribers on board and has visibility into metrics such as customer lifetime value and churn rate, it becomes easy to track and predict subscription businesses. As it is based on recurring payments, subscription models offer a surer source of revenue. Business leaders can then work for strategic planning and investments.
Subscription models offer detailed customer insights. In a subscription model, businesses have ongoing relationships with their customers. They can be in regular contact and gain knowledge of how customers interact with their products. Those insights can be used for product alterations and new products to marketing decisions. They know customer preferences well.
For consumers, subscription business models offer multiple advantages:
Cost: Consumer priorities for budgets have changed, as costs of education, healthcare, housing is bigger than wages. Hence for other goods, a monthly subscription fee is more feasible than a higher one-time expense.
Convenience: As consumers seek out ways to simplify their lives, the "set and forget" nature of subscription services are favourable. Subscription models can also offer variety.
Sense of ownership: With Subscription models, customers get the feeling of possessing products without the big cost, responsibility, without actually buying them.
Customization: Finally, subscription models can provide greater customization. Personalization and curation have come out to be major consumer trends. With tiered pricing structures and tailored recommendations, subscription models can let consumers choose the level of service that meets their personal needs.
Some of the Industries currently using subscription model businesses are:
Cars: Many car companies are opting for usership instead of ownership". This offers subscribers all-in-one subscriptions that have car insurance, roadside assistance, maintenance, and the car itself for a monthly fee.
Home Fitness Equipment: Subscription in the world of fitness started booming, especially in India, wherein gyms have been running on monthly and annual membership plans for decades. Subscription fitness programs are getting popular, as these let customers work out in their homes. It offers flexibility for consumers to work out when they want, how they want.
Home Appliances: In the home maintenance space, companies are exploring ways to turn everything from home repairs to a broken refrigerator to a malfunctioning AC unit, that could otherwise cost homeowners hundreds or even thousands.
Entertainment: During a pandemic, the subscription business of various OTT platforms has boomed. It allows viewers a variety of entertainment options: from TV shows to movies, web series to Sports.
To conclude businesses have found success with subscription models. Several businesses and industries show that adding a subscription model can help bring more customers back into the fold.
With the widely accepted Subscription Models in Businesses across the globe, it is of utmost importance to provide a comprehensive solution to the customers. Driving the transition to a subscription model, simplifying renewals for customers, onboarding of customers, automating the bills, payment processing, handling various plans, customizing plans, customer support, all is taken care of by a single software solution.
NetSuite offers the customers complete visibility into their subscriptions and allows them to manage them. Modification in subscriptions, clubbing all the charges in a single invoice, auto-generate renewal invoices, timely and accurate billing, NetSuite offers subscribers a powerful solution.
NetSuite eliminates spreadsheets, also time-consuming and error-prone manual processes. With the ability to upsell, cross-sell, businesses make profits and understand their customers better. NetSuite also manages subscription plans in multiple currencies for subscribers across multiple countries. NetSuite allows communicating the users with their local languages. NetSuite is a complete package letting companies deliver a quality experience to consumers and driving performance.
RevGurus is a NetSuite Alliance Partner with experienced and certified NetSuite ERP Consultants. With a strong technical background and good Integration experience, we have successfully delivered projects for various SMBs and Enterprises. Our accounting and financial team includes qualified chartered accountants. We can help you to make sure your business improves its efficiency and profitability with NetSuite. We empower companies to optimize and maximize their NetSuite investments.
To know how we can cater to your NetSuite Needs email us at: info@revgurus.com