NetSuite is a Cloud solution that helps growing companies to manage their business operations seamlessly on a single unified platform. Your company might be using different systems for each of these departments – HR, Accounts, Sales and Marketing, Warehouse, Dispatch. What NetSuite does is pull these business processes together to make quick decisions.
Businesses of all types, industries, and sizes need to run effectively. Irrespective of industries and domains, there are common factors that are needed to run the business operations smoothly and efficiently. The functional challenges and needs of different companies can be similar. These common requirements can be fulfilled through functionalities such as:
Financial Management

Customer Relationship Management

Global Business Management

NetSuite Financials
Delivers Proven Financial Capabilities in One Integrated Solution with Business Intelligence capability that provides useful Business Insights.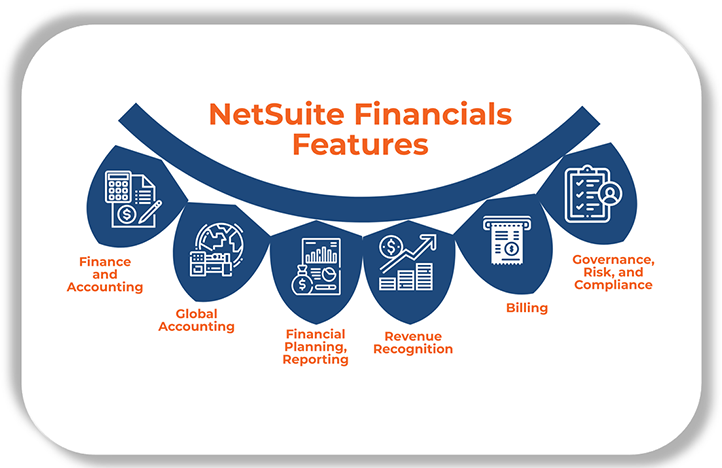 How NetSuite Financials Helps your Business?
Real-time financial accounting information accessible through mobile.

Faster financial close.

Generates reports quickly that comply with regulatory financial requirements such as GAAP, ASC 606,
Advanced Financial from NetSuite extends the features of financial management. Users get benefits of features like Budgeting, Amortization, Expense Allocations with the standard Financial Management features.
CRM
360-degree view of your Customers that improves your Relationship with current and prospective clients.
NetSuite CRM is a robust Customer Relationship Management solution giving a 360-degree view of your customers. You can manage current and prospective customers. With NetSuite, companies can obtain useful business insights to increase sales.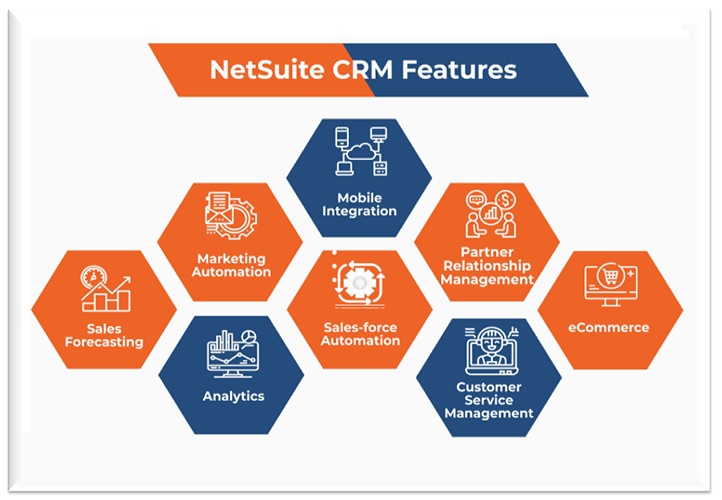 NetSuite CRM Benefits
Provides data of entire customer lifecycle from lead generation through opportunity, sales, fulfillment, renewal, cross-sell and support.

Increase sales and profits.

Answers all your customer's needs.
NetSuite OneWorld
A Global Business Management Solution to manage Local and Global Business.
What Features does OneWorld have?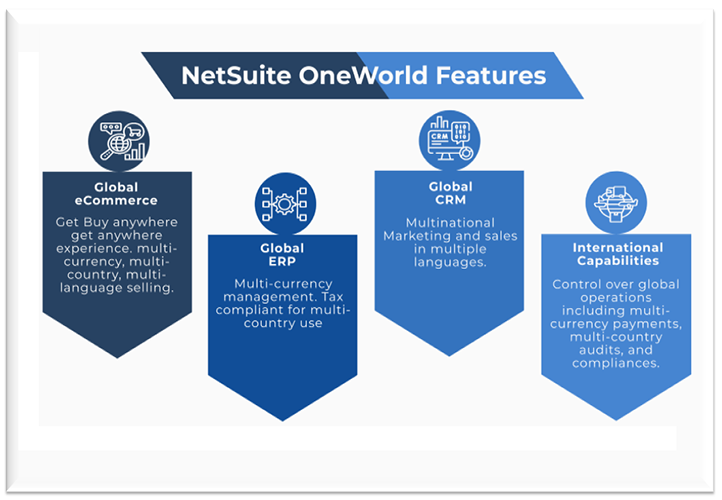 The Benefits of OneWorld to the Global Businesses.
Real-time access of financials, customers, sales anywhere worldwide.

Manage multi-location, multi-country, multiple businesses in a single place.

Achieve global compliance with respect to accounting and financials.
NetSuite Multi-Book Accounting
For businesses that need to follow Multiple Accounting Laws and Standards.
Multi-Book is an add-on module for companies who have opted for OneWorld to operate worldwide.
Benefits:
Used by businesses that operate in different countries, and have multi-currency, multi-industry needs.

Allows foreign currency management.

Automates accounting – auto book entry that has compliance with standards.
Growing companies need to address their business issues quickly and fix those to enhance profitability. NetSuite's ability to serve the growing businesses in a single cloud-based platform is phenomenal. NetSuite automates critical business processes and allows the availability of information of each of these operations' performance centrally. It gathers all the data from the modules used by various departments. This enables you to tweak your operations to improve profits.
RevGurus is a NetSuite Alliance Partner with experienced and certified NetSuite ERP Consultants, authorized in ARM and Multi-Book as well. With a strong technical background and good Integration experience, we have successfully delivered projects for various SMBs and Fortune500 Enterprises. Our accounting and financial team includes qualified chartered accountants. we can help you to make sure your business improves its efficiency and profitability with NetSuite.
To know how we can cater to your NetSuite Needs email us at: info@revgurus.com